Setting up your REDCap@UniFR External account
Step 1 : You will receive an email titled, "REDCap access granted"
After your sponsor at the University of Fribourg (UniFR)/Hopitâl Fribourgeois (HFR) requests a REDCap External account in your name, you will be receiving an email titled, "REDCap access granted" as shown below :

Step 2 : Set your password
After clicking on the "Set your new REDCap password" link in the email you have just received, you will be greeted with the page below.
Please follow the instructions and click on the "Submit" button.
Step 3 : Please IGNORE THIS STEP for the moment (Two-step authentication... ) - click Cancel !

REDCap will now ask you to open Google Authenticator on your smartphone but we shall IGNORE THIS STEP for the moment by clicking "Cancel".

Step 4

: Check your inbox for

an email titled, "Set up Google Authenticator..."



Note that this email may reach you a few minutes after your sponsor's invitation in Step 1.

Keep your smartphone ready and please follow carefully the instructions in your email. Below is a screenshot of what those instructions will look like.

You may need to be connected to the Internet if you don't have the Google Authenticator app already installed on your smartphone. NOTE: Once installed, this app does not require an internet connection.

After having installed the Google Authenticator app on your smartphone please click on the "View QR code in separate window" link which will bring you to the REDCap login page shown in the next step.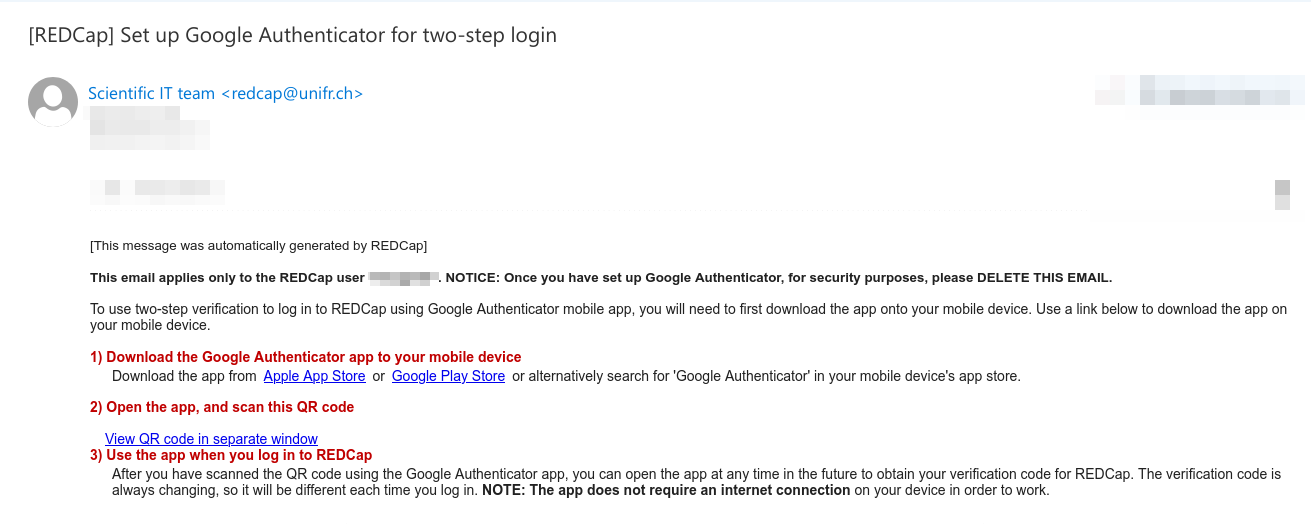 Step 5

: Access your QR code

Your credentials, username and password are to be found from Step 1 and Step 2 respectively.


Step 6

: View and scan your QR code

Once you have logged in, you will be shown a QR code in your browser (a blurred example is shown below) which will need to be scanned using the Google Authenticator app.

Please refer to the email instructions sent in Step 4 if you are unsure what this QR code means.

Step 7

: Log into the REDCapMED server afresh with your two-step verification code

You may now log into the REDCapMED server (https://redcapmed.unifr.ch) with your credentials as entered in Step 5.

However, this time you will be able to provide a verification code via your Google Authenticator app (which we had purposely ignored during Step 3) !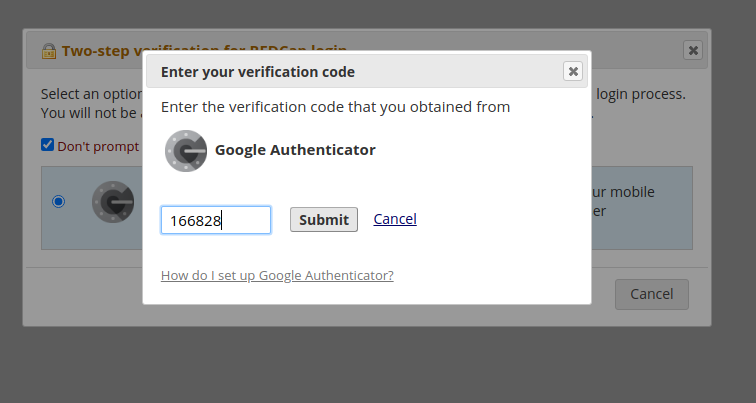 Step 8

: Set your password recovery question

Please follow the instructions for setting up an additional security question.
Step 9 : Your first login is successful!